How MoneyGram Employees Help Brighten People's Daily Lives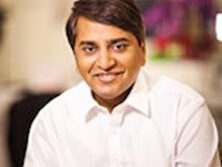 Yogesh, Regional Head for MoneyGram's Asia Pacific region, was attracted to MoneyGram for two key reasons: the human effect of MoneyGram's services and the opportunity to build a team within the region.
Located in MoneyGram's Singapore office, Yogesh oversees a large geography that includes China, Japan, Australia, South East Asia and even extends to include Guam and other Pacific islands. This region is home to approximately a third of the global population, and it contains a mix of sender countries (countries where people are migrating, often for employment and education) and receiver countries (markets from which families are linked to other family members and friends working abroad). Within this region, Yogesh oversees offices in seven different countries. He is leading a team that includes 60 people, 14 nationalities and over 10 different languages.
He finds both professional and personal satisfaction in knowing that the work he does at MoneyGram helps people stay connected to and support the people they love across geographies.
"Money gets moved from a Filipino nurse working in Saudi Arabia to her family back in the Cebu – money that could put food on the table or could be used to fund their children's education. And to be a part of that process, to really help people brighten their daily lives and to help them build a great future, is something that's very, very satisfying, and that really gives you a lot of joy."
Yogesh's more than 15 years of experience in sales, product management and marketing at companies ranging from Citi to PayPal help him lead his team across multiple functions and markets. His team is young – "collegiate" as he describes – and he believes their unique perspectives help them connect with MoneyGram's younger consumers.
And what does Yogesh bring to the table? "I have a strong background in consumer and digital services, which I'm bringing to the strong sales DNA that MoneyGram already has. Everything we do helps our customer decide whether to use MoneyGram or not. Each interaction is a 'moment of truth'," he explains.
The millions of customers who regularly use MoneyGram's services, Yogesh notes, can always rely on the brand. With over 350,000 locations, customers can easily send and retrieve money almost anywhere across 200 countries within ten minutes.
"MoneyGram brings people closer together," he says. "People really trust that red-and-white logo whenever they see it. When they walk in to our agent location or whenever they use us to send money online, they are doing it with the MoneyGram trust in mind."
Though the company has been around for decades, Yogesh sees it as a young brand, considering its restructuring since 2009 that included infusion of fresh talent, a new perspective to business and a culture of innovation and enterprise.
He recalls a meeting he attended during his first week at MoneyGram at which his boss spoke with some key partners, explaining, "Something that he said really resonated with me, and I really believe it personified the culture of the company. He said that we are a '60-year-old startup'."
If you want to join an innovative organization that is making a difference for people around the world, explore our career opportunities today.