Building the Customer Experience by Asking "Why?"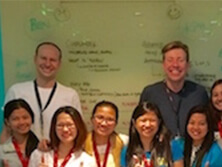 Instead of describing how he currently begins his workday, Ben, Manager of Customer Experience, likes to look toward the future.
"I'm looking forward to a time, several months ahead, when we consistently have our finger on the pulse of what our customers and agents are thinking and feeling – when we're getting insights to each department at all times. Just the thought gives me chills."
Ben currently leads the implementation of MoneyGram's new strategy for building the best customer experience possible. Starting at MoneyGram in IT and then moving to corporate strategy, this was not the career path Ben had anticipated a few years ago. But in his position on the corporate strategy team, Ben was able to work closely with Alex Holmes, former CFO and current CEO of MoneyGram. Holmes's enthusiasm for the customer experience ignited an interest in Ben, which eventually led to the inspiration for MoneyGram to implement a formal cross-functional approach to customer experience.
"In the past, a couple different departments did their best to tackle customer experience, and we had some momentum from teams such as MoneyGram Online (MGO) that had already been focused on designing for the customer," explains Ben. "But what we needed was a cross-functional approach built on intention – because no company accidently has a great customer experience. And it's the customer's perception of ALL the interactions they have with us that matters. We needed to think about the end-to-end customer journey and the value it provides to them."
So what does a cross-functional approach to customer experience look like? Ben and his colleagues, along with one of the world's leading experts on customer experience, developed a strategy for 2016 around four main components:
Know our customers
Design, improve, and innovate
Build a customer-centric culture
Provide the appropriate governance and enablers
"This strategy is closely aligned to MoneyGram's overall mission statement to 'Make money transfer easier for you,'" Ben explains. "We're focused on understanding our customers and sharing that information with the organization so they can build better experiences."
One of the first steps in implementing this strategy is rolling out MoneyGram's Voice of the Customer Program. "With this new program, we will constantly be asking our consumers and our agents, 'What do you think about this…? How do you feel about that…? Do you trust us? Why or why not?' Our organization has a lot of 'what' information that tells us what customers do and when. What we need more of is the 'why' information. Why do or don't customers come back? Why do or don't they promote us? Information that tells us how to improve an experience."
The reception of MoneyGram's amplified focus on the customer experience is overwhelmingly positive.
"I've never had a position where people are so excited to talk about something," says Ben. "All of our employees want to work at a company that has a good customer experience – where they can be proud of their work and the culture."
If you want to join an organization that believes in building the best customer experience possible, explore our career opportunities today.