A Great Experience, Starting with the Interview Process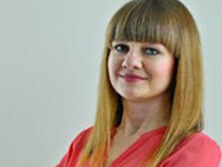 Revenue Activation Manager Ewa knew that she wanted to be a part of the MoneyGram team after she had a pleasant experience with our recruiters. "During the interview process, I really felt appreciated. It's hard to describe, but I actually felt appreciated regardless of the end decision," she explains. "It wasn't just a process. There was something more behind it, and I just felt the people were really passionate about what they do."
Prior to working for MoneyGram, Ewa was involved in the banking industry and lived in Dublin, Ireland for six years. One of the driving factors for her decision to take the Revenue Activation Manager position was that it would allow for her to continue to have a multicultural and multinational experience. Working in MoneyGram's Global Business Center has proven to be a good experience for her. She notes, "To meet all these great people that are in different continents is really amazing."
Ewa and her team are responsible for fostering relationships with MoneyGram agents – the companies that offer MoneyGram services within their facilities, from mom-and-pop shops to larger stores. This starts with the initial agent onboarding process to the daily communication with them.
While agent relations are the primary focus for Ewa and her team, she mentions that her role is also inherently customer-focused. "In terms of supporting them financially, we are making it possible for our customers to connect with their families pretty smoothly and quickly," she says.
As a team manager, Ewa understands the importance of teamwork to achieve certain goals. "Success of my team and the people I work with is even a greater success than any of my own successes," she explains. "I think something that is exceptional about working for MoneyGram at the moment is that I really do work for an inspiring leader, and this is something that is motivating me on a daily basis. This is definitely something that I would like to achieve, as well, for the people that work with me."
Are you interested in pursuing an opportunity with a leader in money transfers that allows you to interact with diverse coworkers, all devoted to the success of the team? Learn how you can join MoneyGram today!