Director of Online and Mobile, Adam, on "Poking the Box"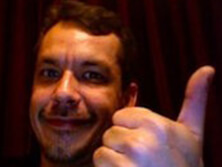 Adam, Director of MoneyGram Online and Mobile in Frisco, Texas, like many other MoneyGram employees, has seen a progression in his career since joining the company about five years ago.
"I started as a sole contributor in the Information Technology department as a Product Solutions Manager," he explains. "In this role, my job was to partner with our Product and Technology teams to figure out the 'how' behind delivering the 'what' that was being asked for by our Product team at the time."
From this position, Adam transitioned onto MoneyGram's online team where he currently leads the group that's responsible for implementing the best customer-centric experiences possible to deliver MoneyGram's products and services to customers. "It has been a logical progression for me personally, and my IT background has served well for the company in keeping our business organization and our IT operations on the same page," he says.
Adam and his team look at their jobs as "being responsible for the customer's voice." As Adam explains, "We listen to the customer in a variety of ways – it might be through phone calls, it might be through focus group activities, or actual usability testing – and we use the information our customers give us to balance delivering MoneyGram's products, services, and support offerings with the best cross-device experiences possible."
"We're responsible for what we call "poking the box," – making sure that we're always challenging ourselves and our stakeholders to think outside of the box and innovating; to think about things in new and exciting ways that delight our customers."
It's his team of innovative thinkers and the culture that they have formed that Adam considers the best aspects of his career at MoneyGram. "MoneyGram has an amazing team here – everybody, from the people who write the code to the people who document the code, to the product team and customer experience teams, to our extended partnerships with Marketing and Operations – we're all working together." Adam describes the culture they have created as a "one-for-all, all-for-one" experience. He believes that not every company has this mentality and that he is lucky to have found it at MoneyGram.
If you are looking for a workplace culture that supports innovative thinking and collaboration, all in support of the customer experience, explore our career opportunities today.