Product Leader on Innovation and Customer Experience at MoneyGram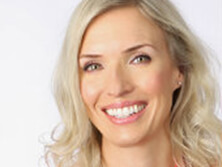 Anna's career path to Senior Product Leader at MoneyGram wasn't a traditional one in the least. "I was a passive candidate," she recalls. "I was recruited off of LinkedIn; I was happy with my current job and had never considered a career at a money transfer company."
After some convincing, Anna agreed to an interview and approached it as an opportunity to really learn about the company and the culture. "I interviewed MoneyGram's people as much as they interviewed me," she says. "And I just felt this connection with the people I talked with– their passion for MoneyGram, the customers, the agents and the products was very apparent. Many of the people I met that day still work here and are among my closest friends."
Anna's current role at MoneyGram involves three main components: customer experience, core products, and product planning. She currently leads a team of 8 people, although she didn't always see management in her career path. "Management found me," she says.
"I take guitar lessons," she explains, "and my guitar teacher had this fantastic corporate career before he started teaching. One day I asked him, 'Why did you decide to do this full time?' He said that early on, he had a guitar teacher that was just terrible, and one day he decided that he could do it better. As strange as it may sound, I think about this frequently -- it helps me remember how much I love being in leadership, how lucky I am to have the team that I do, and how important it is to be passionate and positive."
Another part of Anna's job is managing the planning process of an annual gathering of MoneyGram product leaders at the headquarters in Dallas. At this meeting, the leaders pitch new and interesting ideas centered around current and future market needs. They talk about trends and how MoneyGram could develop products or services to meet these particular needs.
"These meetings create a cross-functional forum for discovery and contribute to our culture of innovation. We're executing now on things that we started talking about in 2014, and it's absolutely fantastic to see these ideas go into the market. The CX (Customer Experience) and Product parts of my role allow me to be part of both idea generation and market facing execution. I am so lucky to do this job and be part of the team at MoneyGram. The service that we provide to our customers, it truly does bring them closer to each other, bringing loved ones together, often across borders. Money is incredibly personal and it's personal for me to be worthy of our customers' trust."
MoneyGram gives everyone a voice regardless of position and gives its employees the freedom to problem solve. The company is one that rewards employees who see seeing opportunities and coming to a solution. That is why Anna believes MoneyGram has become a truly innovative company. More than anything, Anna makes it clear, "the people at MoneyGram are so well intentioned – so invested in making sure that we keep our consumers and their money safe, and that we are a trusted transaction network. These are just incredibly good people who make this a great place to work."
If you would like to join a group of people who are passionate about their work and the effect it has on people throughout the world, explore our open positions today.