MoneyGram Team Wins at the 2016 PYMNTS Innovator Awards
Our MoneyGram family celebrated two prestigious gold awards recognizing the company's commitment to innovation at the 2016 PYMNTS Innovator Awards ceremony at Harvard University.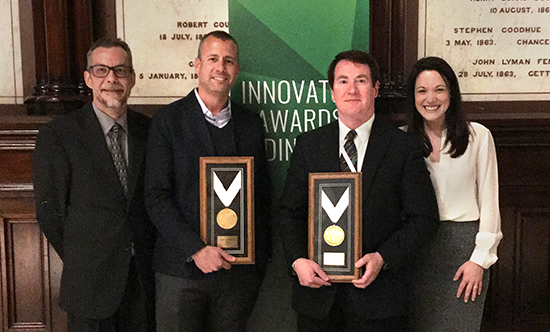 The PYMNTS Innovator Awards honor the innovators that are impacting where the payments, commerce and tech ecosystem is headed over the next year, two years, five years and beyond. They are considered one of the most prestigious recognitions in the payments industry.
"Best Cash Innovation" Gold
Our revolutionary kiosk solutions create a customer-first solution to provide a quick, intuitive and secure experience for consumers. Key features include guest and repeat user experience, multiple languages and minimal data entry for the customer.
"Best Comeback Story" Gold
Our new state-of-the-art online platform gives users a simple, fast way to send money anywhere, from anywhere, at any time, and always securely.
Go behind the scenes with our team on the making of the new MoneyGram.com:
Join our team of innovators. Explore our open jobs today.